"Pretty Strong" is Pretty Darn Strong
Heading out the door? Read this article on the new Outside+ app available now on iOS devices for members! Download the app.
Pretty Strong
By Never Not Collective
Co-directed by Colette McInerney, Julie Ellison, Leslie Hittmeier. Lead editing: Sophie Danison.
Colette McInerney only started shooting photos so she could live on the road, climbing. From that wellspring she became a visual artist, a filmmaker now as well.
"I never thought I was the best person to make this movie," she says in the "Pretty Strong's" opening sequence. "But I knew it had to be made." Over three years, she and two other women, Julie Ellison and Leslie Hittmeier, traveled and put together the 78-minute "Pretty Strong."
That deep love of what we do infuses this film about top women climbers from around the world. The women aren't the stars of the film so much as the climbing is—but it's their climbing. They are athletic and unhesitating, with enormously diverse abilities, and you can see and comprehend how hard the climbing is. The film richly celebrates it.
Where it is less satisfying, though, was where I least expected it. Perhaps unfairly, I hoped for real expressiveness in a film by and about women climbers—10 of them, with at least four welcome cameos by the likes of Emily Harrington, Sasha DiGuilian and Michaela Kiersch on 5.14s in the Red River Gorge. As viewers, we respond to the deep dives: the back stories about who these people are and where they are coming from.
"Pretty Strong" is in segments, each nicely divided with transitions using magazine-style collages (by Vanessa Compton), beginning when Nina Williams and Katie Lambert climb Mikey Schaefer's Grade VI Father Time on Middle Cathedral, Yosemite. Schaefer narrates the difficulties of the route, his proudest in the Valley, which takes "the whole bag of tricks." It is runout, with 60-foot fall potential on the lower pitches, led by Lambert. It has three 5.13b's in a row—up on top of 10 other pitches.
We all know that in many ways women climb differently than men; traditionally, many women have "techniqued" climbs. So then it is fun to get this turnaround:
"It doesn't really matter how strong you are, it matters how good you are," is Schaefer's philosophy for one pitch. Then Nina Williams tells us, "I had a lot of people tell me you can't muscle through. But I found a way."
The next segment is a complete switch in tone. Isabelle Faus, a nails-hard boulderer, is shown in locations ranging from her home in high-alpine Colorado to Ticino, Switzerland, to Rocklands, South Africa, with footage of many sends and falls and one pretty good groundfall. Faus never hams it up for the camera, in fact barely acknowledges it; her style is not chatty or comfortable but tomboy or, as one climber says, "skateboarder," and it feels true to her. In that context we get some nice touches through voiceovers and timing, such as her warning for us to watch for a move that is "this all-out jump for me" on Steakhouse (V12), Rocklands. We also get to see her send Memory is Parallax (V14) on home turf.
Though it will have been a calculated choice, I did often wish to get the names of the routes on the screen earlier rather than at the end of a send. It just would help us not only appreciate the routes but keep them all straight, because there are a lot, but that is a good problem.
Hazel Findlay (UK) gets a big trad tour from Jessa Goebel, in the New River Gorge, West Virginia, and the Red River Gorge, Kentucky. Goebel steals a few scenes with phrases like, "You get up there and you get some!" and Findlay has great cinematic moments, on the richly striped sandstone in the New River Gorge. In the next chapter, Anna Liina Laitinen from Finland cruises hard routes in Spain and also Zulu (5.14) Rifle, Colorado.
But … by this time we're having the back-story issue. The fact that Laitinen is from Finland seems unusual, but there was little about that. The dreamy overlay sequences with which this section is rife become wearying. Laitinen is a superb climber, and in a sweet bit of editing, the music syncs as her foot swings wa-a-ay out, but while she mentions trying to control stress and fear, we don't feel the process. We really don't know that much about these women. I also wished for more personality bits like the nice sequence when Goebel and Findlay are crossing a stream, and Hazel falls in with a yell and a splash.
Climbing films, largely about males, have for years if not decades been criticized as buddy movies, needing more depth and resonance. We get some deeper glimpses: Katie Lambert, a top Yosemite all-arounder, says with candor, "I was the typical disgruntled teen. I wasn't fitting into school. I wasn't happy at home." Then she found climbing: "That was it." But I would have liked more background on Nina … on all of them. What they are doing would be more meaningful and impressive for it.
It's ironic … but wait! Wait until you get to the brimming last segment, about Fernanda Rodriguez Galvan and three other women climbing in El Salto, Mexico. We see Fernanda's background, see photos of her as a child with her family, know that she started out bouldering because she couldn't afford a rope or other accoutrements; these are life obstacles, part of this person's development. We have detail shots showing humming camp stoves and bowls of bright cut papaya at the climbers' campground she runs. And I give the filmmakers huge credit that, for all of the Spanish climber Daila Ojeda's star power (and she zips up .13d), they had the wherewithal to see where the real story was.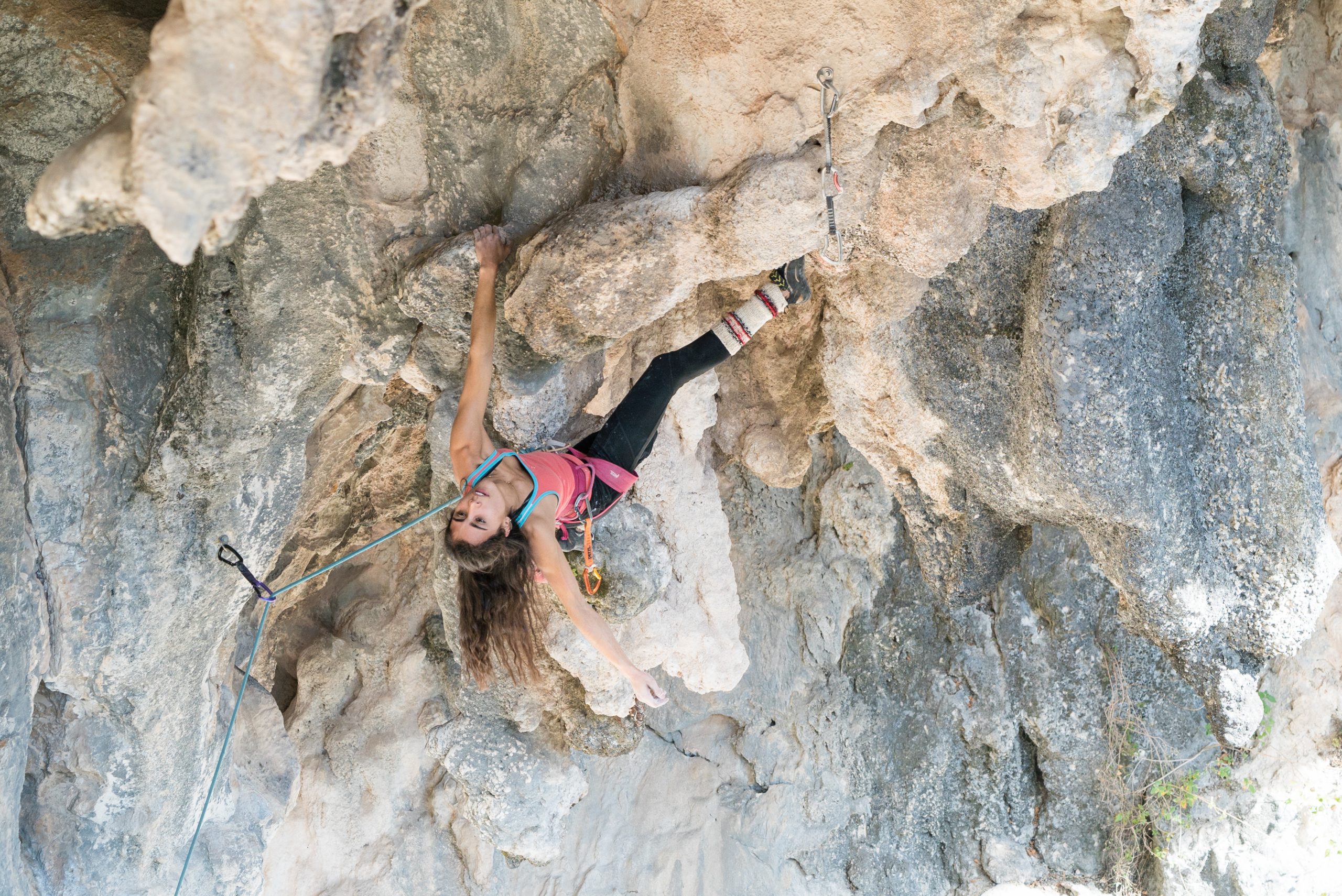 Guess what, not going to tell you any more, except that Rodriguez takes on a huge endeavor, that also appearing are the local climbers Larissa Arce and Alma Esteban, and that this sequence has both the coolest music and the most effective bit of silence.
Overall, "Pretty Strong" is a great first feature representing an almost unthinkable amount of work and sheer presence. It also just plain represents.
---
For more information about "Pretty Strong," visit the Never Not Collective.
---
Also Read